It's not the first time and probably not the last, but last night I fell for the intoxicating allure of discussing with people online. So now I am at the office after 4 hours sleep wondering what the whole point of my Don Quixote behavior was…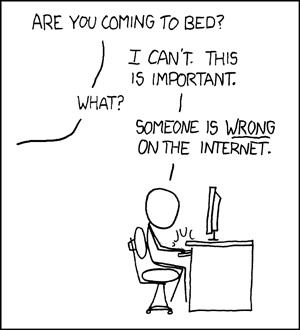 I must stop doing this!
The problem is that arguing Assange is like arguing with creationists. For every answer they ask impossible questions and if you cannot answer them (immediately) it's obvious that they are right. Most annoying. Then there is the problem that they behave like trolls. They don't read the earlier material but just jump in and repeat the same tired (and wrong) statements. I love the term "zombie facts" i.e. statements which stagger on even when shot down.
My position is legal and can best be summarized by The blog that Peter wrote and The Statemans Legal myths about the Assange extradition.
Let me summarize some of the more important stuff:
"The allegation of rape would not be rape under English law" False (No brainer – rape is non consensual sex i.e. no means no. Sleeping people have not consented).

"This is the Personal Vendetta of one Swedish Prosecutor" False (it's a decision by the Swedish Court of Appeals)
"Assange is more likely to be extradited to USA from Sweden than the United Kingdom" False (I wrote a longer post on this in March)

"Sweden should guarantee that there be no extradition to USA" Not legally possible (I wrote a longer post on this in March)
Sweden will extradite him anyway False (see Mark Klamberg for more on this)
"The Swedes should interview Assange in London" No: Best answer in the New Statesman article (Also: Seriously? Do you negotiate with tax authorities where to pay taxes?)
In addition I am completely in agreement with The Blog That Peter Wrote when he writes:
This issue is not like choosing sides in a soccer match.  You can be pro-Wikileaks and keen to see the rule of law operate.  This does not make you anti-Assange, an Assange Hater or anything else.  I, like you, have no idea whether he is guilty of the alleged crimes back in August 2010.  I do feel that the alleged victims deserve to be taken seriously, having taken the step of reporting the alleged offences to the Police, and that they should have some form of closure.

It is frankly irrelevant who the man is who is wanted for questioning, and what other great things he may (or may not) have done.  If you believe in judicial process and the rule of law, it is hard to argue he should not return to Sweden for questioning (after, of course, dealing with the consequences of his behaviour here in jumping bail).
This post is to remind myself to turn of my devices and go the f**k to sleep.