The hugely popular twitter account @HistoryInPics received a nice publicity puff when Alexis Madrigal wrote about the account in The Atlantic the article was all about the great new spirit of a couple of teenagers running their business. But the article did not mention the ways in which their business was built on copyright violation, sometimes presented false histories and generally produced little of value.
A much better article, provoked by the Atlantic, was posted on the Wynken De Word blog: It's history, not a viral feed. Here the author thoughtfully explains what is wrong with the feed. The lack of attribution and basic helpfulness to source images and also the ways in which false history is so easily pushed and becomes accepted truth.
Yes, the images do create an interest. But they do not allow any further discussion beyond "cool image". The learning experience is snuffed out before it even has a chance to begin. Let me demonstrate:
Today this cool image was re-tweeted from the account @historyepics (an account similar to @HistoryInPics). It was entitled Victorian Transgression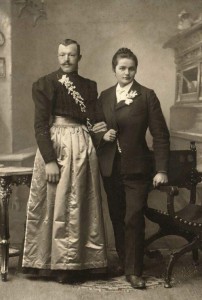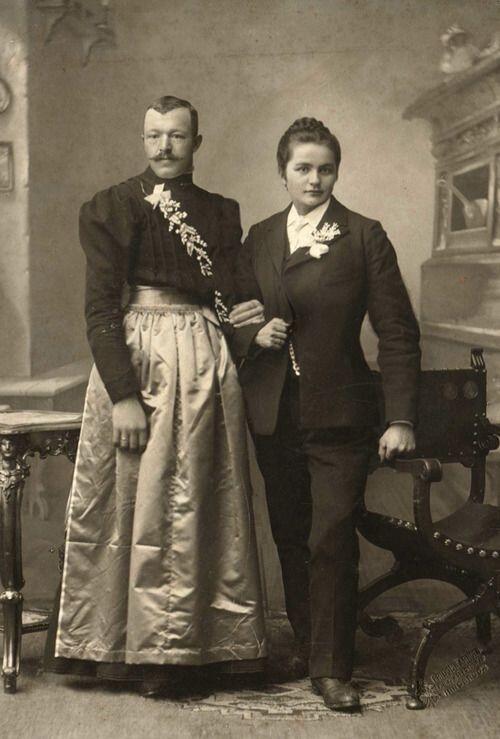 Judging by the content the image is old enough to be in the public domain and therefore free to re-use. But it could also be a new photo done in an old style which would mean that the right to reproduce is limited and this could very well be copyright violation. Even if the photo is free to use the lack of attribution is very unfortunate.
The picture is still the picture. It is intriguing and lovely. But what does it mean? Who are the people in the photo? Why are they wearing those clothes? Are their linked arms to be seen as intimacy and acceptance? Or maybe mutual support?
Without any knowledge of the background we can only speculate as to what the image means. Is this a photo of a Victorian transvestites? Is it just a joke (a Victorian lolcat)? Are the couple going to a fancy dress party? Or is this a transgender couple? Is it the result of a wager? Maybe it's a theatrical image? Is it a protest against social conformity to unreasonably rigid gender roles in Victorian society? Or is it just photoshop?
If this photo is as old as it seems then it is in the public domain and can be spread without any information. But this legal right does nothing to support our learning in general and our knowledge of the specific situation.
If only we had a database containing vast knowledge… Yes, I googled Victorian Transgression and found nothing about the photo. But I did come across these other images. This time they were from Pinterest.
And this
What does it all mean? Is this a useful addition to the knowledge of gender roles in Victorian society? Or is it just shallow eyecandy for us to like and ignore? Without knowing what the picture represents I cannot use it in other settings (like lectures). I could be helping in the creation of false history.
Without attribution (even to a incomplete source) the barriers to actual knowledge and understanding of what we see is to high. All we have is an image that appears across our screens. The reality of the image can only be replaced by our own subjective interpretation without any recourse to facts. The reproduction of content, without sourcing it, takes the knowledge out of its context and makes it one dimensional. Only by showing sources can the onlooker be assisted to a better understanding.
To @historyepics & @HistoryInPics and their ilk who make social media shallow, I say: Images without context is not history. I doubt they care, but I do.