While writing on a totally unrelated topic I fell down a different rabbit hole about the role of the bicycle in the liberation of women. I vaguely remember an example of how the bicycle enabled women to take their own letters to the post office and therefore not be under the control of men. But I have been unable to find a good source for this. There are several other examples and quotes about the ways in which the bicycle enabled changes in fashion and social order.
There is a new dawn … of emancipation, and it is brought about by the cycle. Free to wheel, free to spin out in the glorious country, unhampered by chaperones … the young girl of today can feel the real independence of herself and, while she is building up her better constitution, she is developing her better mind.
No girl over the age of 39 should be allowed to wheel. It is immoral. Unfortunately, it is older girls who are ardent wheelers. They love to cavort and careen above the spokes, twirling and twisting in a manner that must remind them of long-dead dancing days.
Kit Coleman (1889)
Then there is this anti-women on bicycles rant that states that "the bicycle is the devil's advance agent"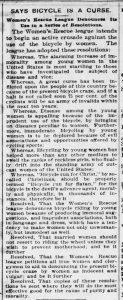 Or this one from The Sunday Herald 1891 "I had thought that cigarette smoking was the worst thing a woman could do, but I have changed my mind." now its riding a bicycle.

But Susan B. Anthony was a fan of the new mode of transportation and credited it with playing a large part in the emancipation of women.
Let me tell you what I think of bicycling. I think it has done more to emancipate women than anything else in the world. It gives women a feeling of freedom and self-reliance. I stand and rejoice every time I see a woman ride by on a wheel…the picture of free, untrammeled womanhood
Here is a Vox video on How Bicycles boosted the woman's rights movement.