After switching from iPhone to HTC it is as I suspected. Perfectly fine. The world did not explode and I did not grow horns or facial warts. The technology is beautiful and works great. There are differences but hardly worth mentioning. Everything I could do on one device I can now do on the other device.
Except for one thing. I cannot appear in a blue bubble when I text an iPhone user. Since I am no longer part of the iPhone exclusives my texts appear in green. I am marked as an outsider. The appearance of a green bubble among a long line of blue users not only marks me as an outsider but it marks be as "the other", not the norm.
Indeed this status of otherness needs to be interpreted by those who receive the message. There first thought seems to be whether or not the color appears in error – for surely he cannot have chosen to become "other".
Some seem to ignore it, unfazed by this color, or at least seemingly uncommenting. Are they ignoring it out of disinterest or is there a touch of embarrassment/shame? In the same way as when a friend lets himself go, or falls on hard times… its easier to avert ones eyes – are they doing the same with my green bubble?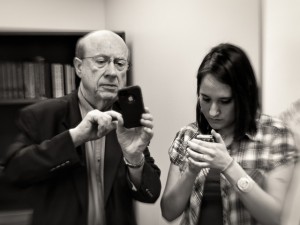 Anne Worner Communication CC BY SA
What is the interpretation of the green bubble? How do we judge those not part of the apple universe? One of my friends expressed his astonishment that I could even consider leaving the iPhone universe. iMessage is one of the major lock-in factors that keeps people to Apple devices. It is a great system that (when it works) allows for great functionality.
It is also an interesting marker that signals something about a user, a contact, or a friend. What does it mean to be green? Why aren't you blue?