Being invited to talk somewhere else is always thrilling. Being asked to go to Berlin was even more so. The event was part of Internet und Gesellschaft Co:llaboratory who have been working on Internet & Human Rights. The event was a full day of talk (admittedly a lot in German but I had wifi and work to do so I was happy) followed by an open seminar with three talkers. These notes are from the presentation I gave at the seminar.
The lecture opened with a look at three historical highpoints of privacy regulation and thought. First was 1890 which was the year where Warren & Brandeis published their seminal paper The Right to Privacy which attempts to create a new right in society. Today, living in a rights-focused society arguing for rights seems natural (or banal) but what was it like to be the first to argue the right to privacy?
To exemplify the situation I showed the killer app of the 1890s. It was the Hollerith Tabulating Machine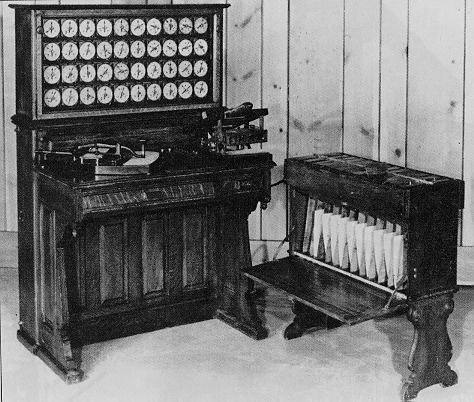 The legal protection of privacy did not immediately spring to life and the next great step came in the 1970s where first the Lander of Hesse in Germany and the in 1973 Sweden created data protection legislation. The idea was to protect against the abuses of data collection but the state and large corporations.
The killer app of the 1970s is the impressive UNIVAC computer
UNIVAC image from Musée de l'Informatique
Kind of looks like the communal laundry room in my apartment building.
The next step was the European Data Protection Directive which attempted to harmonize data protection across Europe. It came in 1995 which as a killer app had the Windows95 operating system (couldn't resist it!) and more importantly the first browser wars between Netscape and Internet Explorer (Microsoft released versions 1 and 2 in 1995). The browser wars are incredibly interesting as they show the importance of controlling the flow of information to the end user was not dependent on the hardware or operating system. It also shows that power consists of inserting oneself between the information and the end user – but I digress.
Before continuing I wanted to remind the audience that the law (and lawmaker) is behind the times so I quoted the late great Douglas Adams from his book The Salmon of Doubt
"Anything that is in the world when you're born is normal and ordinary and is just a natural part of the way the world works. Anything that's invented between when you're fifteen and thirty-five is new and exciting and revolutionary and you can probably get a career in it. Anything invented after you're thirty-five is against the natural order of things."
Following this I added a theoretical dimension to the lecture. The regulatory pyramid is intended to show that we focus on the law – this is what I was taught at law school. But the law is a self-sustaining system that ignores (or struggles to) the realities of social norms/rules and architecture. Social norms, not law, are what control most of our behavior the law is often too expensive, too drastic, too formal to be an efficient mode of conflict resolution. When someone "steals" "your" parking space, you don't sue or call the prosecutor. You apply social norms. Your reaction depends on your upbringing and context – you may smile sweetly, flip them off or become verbally or even physically violent. Architecture is how the world works. It controls us by the rigidity of its being.
Regulatory Pyramid
If you want to slow down cars from speeding the law could be applied (a traffic sign will remind us of a pre-existing rule), or we use social norms by reminding drivers of accidents or children playing in the area. By implementing architecture we remake the physical environment and, for example, add bumps in the road – at this all cars must slow down. It is, however, important not to confuse the equal treatment with fairness. Architecture will prevent even an ambulance that may have good reasons to drive faster in a slow area.
As an example of my theory I show this wonderful/awful park bench in Tokyo.
image from Yumiko Hayakawa essay Public Benches Turn 'Anti-Homeless' (also recommend Design with Intent)
The bench is an example of outdoor public furniture known as anti-homeless technology or anti-bum benches. In order to prevent an undesirable group of people from using a public space we could create a rule against it – but by creating a law we need to accept the democratic constraints in rule making. Someone could remind us that in a democracy excluding people is inherently wrong. By choosing a bench that is unsuitable for sleeping the democratic process is bypassed. Additionally the park officials can always claim to have made an aesthetic choice i.e. we like this bench, rather than being against homeless people. This is control through design choice – imagine the control that may be created in manipulating communications technology.
The next segment is surveillance theory. As individuals we constantly leak and spread information. Most of us attempt to create strategies of control for our information flows. The most common is the process of compartmentalization which means that we present different information to different groups. I.e. the information you give about what you did over the weekend may be different when presented to your boss, wife, mother, children, best friend or lover. This is not necessarily lying but it is an attempt of controlling flows of information. Technology, and in particular social media, is all about losing the ability to practice this control.
Traditional surveillance theory is based upon Michel Foucault's developments of Jeremy Bentham's plans for the Panopticon prison. The concept is basic – if we are unaware of being watched we will internalize our own surveillance and become our own jailers. This is the whole premise of George Orwell's book nineteen eighty-four: Big Brother is watching you. People under constant surveillance can be controlled. But is this really true? The control by the state is under constant refinement and yet citizens still attempt to cheat and steal – violent crime in general remains constant despite cctv. Could it be that Foucault (and Orwell) got it wrong?
The next step is technology. For me it's the radical Huxleyian shift. What Orwell feared was totalitarian control via surveillance technology. But Huxley premised a more base society. Give people enough sex and drugs and they won't care who controls them. Enter the convenient, comfortable, entertaining world of social media.
Social Media Timeline
Our newfound joy of communications technology has already changed our behavior in a major new way. Patterns of behavior that were deemed amoral, antisocial or even illegal have now become acceptable. Spending an evening looking at pictures of your ex-partners new partner would have been a textbook case of voyeurism and stalking. Today, its just Facebook. This reminds me of this early cartoon:
Additional changes in our behavior which should concern us are the fact that we can no longer refuse, ignore or exclude social media from our lives. Many claim they don't have time for such nonsense but this will not be an efficient information control strategy. Even individuals outside social media use are being photographed and tagged by users and therefore identities are being created of them. These "friends" will also ensure that opting out is not a viable option.
The final level of surveillance is autoveillance. This is the self-chosen role of spreading information about ourselves. This is not the fact that my telephone stores and communicates my location information and more. This is part of the performance lifestyle which has created a performance anxiety, a need to present interesting inspiring activities from an ordinary lifestyle.
This may be silly, but is it harmful? Here it is not enough to study the moves of individuals (even millions of individuals).
Basically we are being seduced by technology, locked by licenses & killed by a lack of social responsibility. This creates four harmful outcomes that need somehow to be countered: Privacy, Personalization, Information obesity, & mind control.
As with the Japanese park bench above, understanding the users will not enable us to see the intentions of the manipulators. We must look to those with influence in social media and who can be more influential than Mark Zuckerberg.
Zuckerberg has been quoted as saying privacy is no longer a social norm
Which is interesting given the fact that he has created a system which helps us to forget our inhibitions about sharing personal information and that his business model is premised on our sharing. He has a stake in the removal of protections against privacy.
Zuckerberg on the topic of personalization of technology: "A squirrel dying in your front yard may be more relevant to your interests right now than people dying in Africa" (Pariser NYT)
Sure there have always been gatekeepers choosing which information is important for me or not. But these gatekeepers did not create a personal information resource only for me. The daily newspaper is created to appease a society of readers. I may chose to ignore an article but at least it's there in front of me. In a personalized world I will no longer be confronted by any kind of information that does not fit my profile.
The Holy Grail of many Internet providers is to give us this kind of personalization. The problem occurs when this kind of convenience and service removes our ability to control our flows of information. We lose the ability to read information that we may need – because we are constantly being bombarded by the information Facebook thinks we want.
Information obesity: Our bodies crave sweet and fatty foods. One way of looking at this is through the lens of evolution. Finding fatty and sweet foods was key to our survival but these were not to be found everywhere or everyday. Today we are surrounded by fatty and sweet foods so access is not the problem. The problem is overindulgence and obesity due to accessibility. This forces us to think about diet, to think about exercise. Self-control is essential to our survival.
The same is true of information. The sweet and fatty information in a long historical context was an understanding of who was allied with whom? Who is sleeping with whom? And whom can I get my genes over to the next generation (obviously just a nicer way of thinking about getting laid!). This is why we today have a fascination about gossip. Which minor celebs are attempting to sleep with each other takes up an extraordinary part of our lives. But this was all ok since the access to gossip was limited. Today, however, we are connected to the largest gossip engine ever conceived. Facebook may try to hide it in its spin, but part of our fascination is all about looking at each other. The problem is that there is only a limited amount of time in life and spending too much time on gossip limits our ability for more relevant information. We are becoming information obese and the solution is to decrease fatty information intake and go to the information gym regularly.
The final concern is of mind control. This is all about what happens when a social media is told that you are interested in a certain thing. Say, for example, you have a secret pleasure in seeing videos of kittens being kicked. You would never say this aloud – and if you did your social group would correct you by telling you this is an unhealthy impulse. You may even manage to convince yourself that you have no sadistic urges in this area. However, social media knows the truth and will continue to give priority to information about kitten kicking. You may resist some of it but if you have an urge you probably will click on some of the information. By clicking you re-enforce the information algorithm and you will be sent even more kitten kicking information. A question of moral responsibility can now be posed: While your latent sadistic tendencies are being reinforced and enhanced – what is the moral responsibility of the provider? This is akin to asking whether a drug pusher has any moral responsibility to his clients. In your answer consider that many users of social media are very young and there is no general awareness or discussion on the harms of social media.
So what about regulation? Well the problem is that we are considered to be autonomous. In other words we are old and wise enough to live our own lives. Indeed we have all agreed to the terms of use of social media sites. We may not have read them, maybe not understood them, they may have changed drastically since we read them – but legal fiction is that we agree to them.
This shouldn't be a problem. If society deems an activity harmful enough it can, and should, legislate against it – even if some may protest this regulation. There have been protests against: motorcycle helmets, seatbelts, hitting children and the right to smoke (makes you lose faith in human intelligence) but the social cost was deemed greater than the loss of individual autonomy. The problem with social media is that the social costs are not particularly visible.
Finally on the question of gatekeepers and Orwellian or Huxleyian control it is interesting to note that typical Orwellian control is easier to see and therefore easier to protest against. Therefore the cost of maintaining it against the wishes of the people is too high to bear in the long run. But Huxleyian control is based on making me happy, fulfilling my desires. Counteracting this requires that I first become aware and then exercise self control. This is difficult on an individual level and close to impossible on a social level.