Its a discussion that has been going on since the start of the Free Software movement in the 80s (and maybe even earlier), and its taking a more sinister and urgent turn. There are two parts of the problem both addressed in Joshua Fairfield's book "Owned: Property, Privacy and the New Digital Serfdom" and this article he wrote for Quartz: A Roomba of One's Own. The first part is the question
If we are surrounded by devices we bought but do not control, do we really own them?
This is the challenge to the very idea of property that we are facing today. The books you buy for your Kindle are less yours than the books you have on your shelf (they are more leased than owned). The devices that you cannot repair are a clear example of the ways in which your stuff is really more of a rental situation.
The second part is all about the data our devices collect about us. We have always been under surveillance but the difference is that now we are the ones buying the surveillance devices AND providing all the data for surveillance. Recently there was a fascinating display of this when Netflix posted this tweet: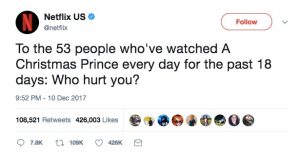 Some people thought it was amusing while others saw it as creepy. But it is a simple example of how everything we do is being mined for data. This was a simple piece of humor, but it is also an excellent visualization of the power of data collection. Its not even a complex example.