Remember this?
Thats right. Its 2011, a campus police officer at UC Davis casually pepper spraying peaceful non-threatening protesters. This is an act of pure sadism. There is no threat to the helmeted, armed police. So why the exaggerated use of force? But don't take my word for it.
Here is what's on Wikipedia
Sometime around 4:00 pm, two officers, one of whom is named John Pike, began spraying Defense Technology 56895 MK-9 Stream, 1.3% Red Band military-grade pepper spray at "point-blank range" in the faces of the unarmed seated students. The pepper spray used, according to various websites, has a recommended minimum distance of six feet.[48] Bystanders recorded the incident with cell phone cameras, while members of the crowd chanted "Shame on you" and "Let them go" at the police officers.[49] Eleven protesters received medical treatment; two were hospitalized.[50][51][52]
And here is an analysis of the situation and the report of the event.
Its totally embarrassing for UC Davis. Police brutality, harming the students you claim to educate, arming campus police as paramilitaries, overreacting to peaceful protest etc etc.
Thankfully the internet reacts. There were huge amounts of articles but also memes. Don't forget the memes.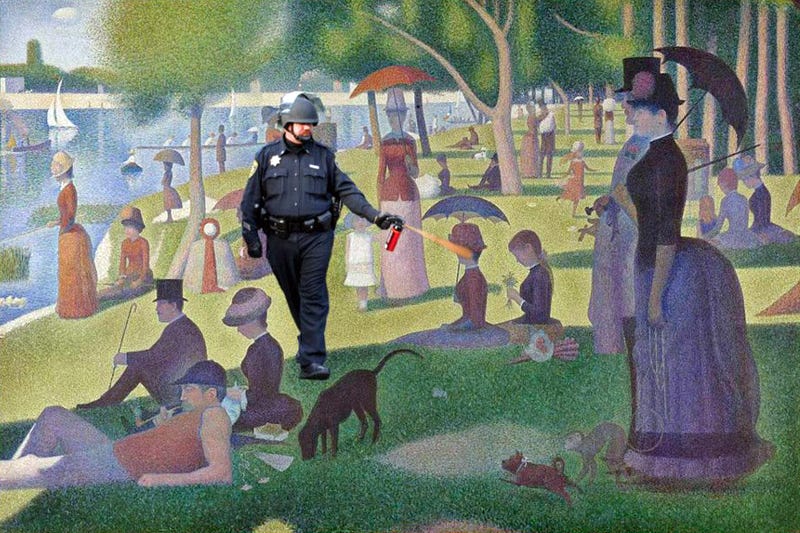 and graffiti
Turns out that the university was not too pleased. They paid of the bad cop instead of punishing him. Be that as it may. But now we find out that:
"The University of California at Davis shelled out some $175,000 to consultants to clean up the school's online reputation following a 2011 incident in which campus police pepper-sprayed student protesters,according to documents cited by the Sacramento Bee." (Washington Post)
Charming use of money. Lets make sure that UC Davis learns all about the Streisand Effect
The Streisand effect is the phenomenon whereby an attempt to hide, remove, or censor a piece of information has the unintended consequence of publicizing the information more widely, usually facilitated by the Internet.
Lets make sure that the images that prove the callous nature of that police officer, that police department, and that university are not easily forgotten.