Free Culture at NYU and Columbia are organizing a photo contest in  New York. The idea is to document the  city and provide  images which can be later used for wikipedia articles. This is a great way to increase awareness and to provide a bank of images for others to use. Does anyone want to organize something similar in Göteborg?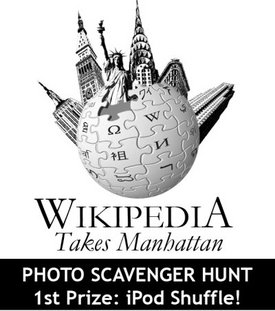 On Friday, March 28th (April 4th rain date), join Free Culture @ NYU and Free Culture @ Columbia on a quest to get the best shots of NYC. Bring your camera and a way to get around town for the biggest scavenger hunt in Free Culture's history.

All photos will be uploaded to the Wikimedia Commons for inclusion into Wikipedia articles about NYC that need photos. We've got hundreds of locations, sites, and things to document for Wikipedia and it should be a really fun day.
Each member of the winning team will receive an iPod shuffle loaded with Creative Commons music! Second and third place teams will win copies of "Wikipedia, The Missing Manual" donated by O'Reilly.